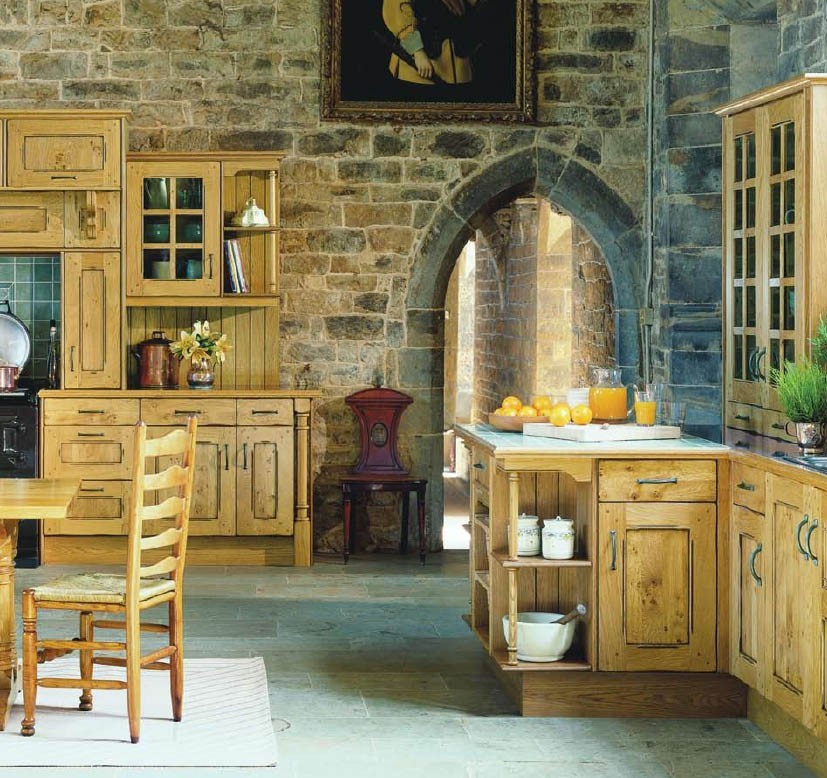 (Tim Wood)
Here are two bespoke English kitchens that I really find smashing!  They are quite different from one another.  Let's take a look at the two of the a bit closer. 
The first kitchen offers so many layers of interest.  Notice how many textures are involved:
-the walls 
-the wooden cabinetry
-the floors
-the furniture (the chair, in particular)
-the accessories
-the tile backsplash and counters
The second kitchen is very different from the first.  I think it's the simplicity that I find pleasing.  It's clean and straight forward, without being too utilitarian or clinical.  This kitchen has great warmth without sacrificing function.  
I wouldn't be completely honest if I didn't say that the rack/lighting over the island
really
bothers me.  It's just distracting.  What's going on with those chains?  Cord covers would have made such a difference.  Also, I think I would have hung pots rather than tools.  They look out of scale to me.  Can't you just see a few copper pot up there?  An amazing chandelier would have been my choice--but they didn't ask me.  
Decision time.  If you had to choose, which kitchen would it be--and why?  
I've made up my mind--
I think
!