***
***

Due to the flooding of Opryland in Nashville,
THE PEARL EVENT has been canceled

.***
Now, I'm just hanging on to see when and where the next event will be.
I'll keep you posted!
***
It is with much joy that I tell you all about
THE PEARL EVENT
in
Nashville, TN
on
June 26th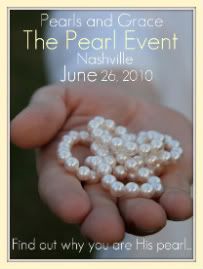 My dear friend, Pearls and Grace, will be speaking at this ladies event and
is sure to warm the heart of everyone present.
Yesterday was Mrs. Pearls and Grace's birthday!
I hope she had the most wonderful, fun-filled day possible.
Please visit her blog and find out what has inspired The Pearl Event.
You will be so glad you did.
I'd love to know if you are going to attend The Pearl Event.
Just leave me a comment here!